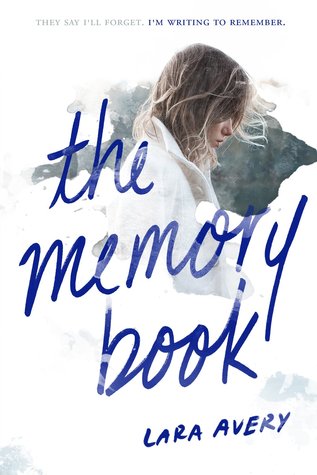 The Memory Book
by Lara Avery
Publication Date: July 2016
Publisher: Poppy/Hachette Book Group
Format: Kindle
Rating: 3/5
Buy the Book:
Amazon
|
Book Depository
|
Exclusive Books (SA)
Sammie was always a girl with a plan: graduate at the top of her class and get out of her small town as soon as humanly possible. Nothing will stand in her way--not even a rare genetic disorder the doctors say will slowly start to steal her memories and then her health. What she needs is a new plan. So the Memory Book is born: Sammie's notes to her future self, a document of moments great and small. It's where she'll record every perfect detail of her first date with longtime crush, Stuart--a brilliant young writer who is home for the summer. And where she'll admit how much she's missed her childhood best friend, Cooper, and even take some of the blame for the fight that ended their friendship.
Through a mix of heartfelt journal entries, mementos, and guest posts from friends and family, readers will fall in love with Sammie, a brave and remarkable girl who learns to live and love life fully, even though it's not the life she planned.
This book is a great example of the effects that The Fault in Our Stars has had on the YA genre. There have always been books out there that edged on the precipice of teenage romance, destined to reach untimely ends due to death, illness or other natural disasters, long before Hazel and Augustus graced us with their literary presence. Since John Green's runaway success the interest in 'sick' teen books has increased, and The Memory book can be seen as one of the many attempting to satisfy a demand for a short lived love story in literature.
This doesn't mean that it's not achieving just that. I enjoyed the writing style – reading Samantha's firsthand account of slipping into the dark recesses of dementia, and following her stages of anger, denial, sadness and finally acceptance of her disease, as the world she fought to build inevitably falls apart. Samantha's sharp wit and attitude lightened the heavy subject matter, as well as made for a very relatable and endearing character. What I didn't enjoy was the ending (but I'm not going to spoil that for you).
Overall it was a relatively quick and easy read, leaving you with just the right amount of empathy towards the characters. A good break from the sappy contemporary love story's that are flooding the young adult genre, yet not straying too far from the oddly appealing 'depro' books that seem to tug at the teenage heartstrings.
View all my reviews on Goodreads